Le 1er Mai
1er Mai : Fête du travail
Le 1er mai 1886, la pression syndicale permet à environ 200.000 travailleurs américains d'obtenir la journée de huit heures. Le souvenir de cette journée amène les Européens, quelques années plus tard, à instituer la Fête du Travail.
Workers'day:
On May 1st 1886, union pressure allowed about 200,000 American workers to acquire the eight-hour day. The success of this day leads the Europeans workers, some years later, to have May Day.
Der 1. Mai: Tag der Arbeit
Am 1. Mai 1886 führt der gewerkschaftliche Druck dazu, dass ungefähr 200.000 amerikanische Arbeiter den Achtstundentag erhalten. Die Erinnerung an diesen Tag bringt die Europäer einige Jahre später dazu, den Tag der Arbeit einzuführen.
---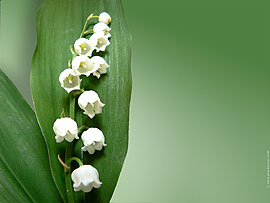 1er Mai : Fête du Muguet

Le 1er Mai, les gens s'offrent un petit brin de muguet. C'est un porte-bonheur censé apporter chance et joie pour toute l'année.

The day of the Lily of the valley:
On May the 1st , French people give each other a small sprig of lily of the valley. It is a good-luck charm which is supposed to bring luck and joy all year.
1.Mai : Fest des Maiglöckchens.
Am 1. Mai schenken sich die Leute gegenseitig ein kleines Maiglöckchen. Es soll ein Glücksbringer sein, das Glück und Freude für das ganze Jahr bringt.