Personnages Historiques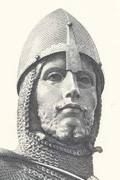 Saint Wenceslas
Saint Wenceslas a été le roi de la Bohème de 921 jusqu'à son mort. Il est le patron de la République Tchèque jusqu'à nos jours.
Saint Wenceslas or Saint Wenceslas born 907 - September 28, 935 was duke of Bohemia from 921 until his death. Wenceslas is best known in the English-speaking world as the subject of the Christmas carol Good King Wenceslas. He was the son of Vratislav I, Duke of Bohemia from the dynasty and his mother Drahomíra. Wenceslaus himself is venerated as Saint Wenceslas and is the main patron saint of the Czech state.

---
Charles le IV
Charles le IV: Il a été le onziéme roi de la Bohéme et l' empereur Roman. Il a reigné dans la Royaume de la Bohéme depuis le 2 septembre 1347.
Charles IV 14 May 1316 - 29 November 1378, born Wenceslas, was the eleventh king of Bohemia from the House of Luxembourg, and Emperor. He was the eldest son and heir of John the Blind, thus Charles inherited the County of Luxembourg and the Kingdom of Bohemia. On 2 September 1347 Charles was crowned as the king of Bohemia.