Le Cornet de sucreries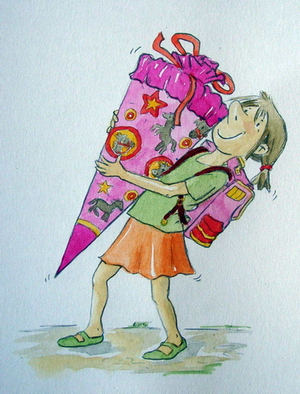 Le gros cornet de sucreries
Pour leur premier jour de classe à l'école primaire, les parents offrent à leurs enfants un gros cornet de sucreries et de petits jouets. En Allemagne, cette coutume remonte au début du 19ième siècle.
The "Schultüte"
On their first day at school, German pupils at primary school get a big bag full of candies and toys from their parents. This custom can be dated back to the early 19th century.
Die Schultüte
An ihrem ersten Schultag bekommen Grundschüler in Deutschland von ihren Eltern eine große Schultüte mit Süßigkeiten und kleineren Spielsachen geschenkt. Der Brauch geht in Deutschland bis in das frühe 19. Jahrhundert zurück.