Fêtes Nationales
15 mars
On commémore la Révolution et la Guerre de l'Indépendance de 1848-49. A cette occasion, les Hongrois portent des cocardes tricolores (en rouge, vert et blanc, les couleurs nationales du pays) épinglées à leurs vêtements.
15 March
We commemorate the Hungarian Revolution and War of Independence of 1848-49. On this day, several people wear a cockade with the national colours (red, white and green) on their coats.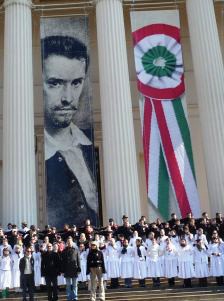 ---
20 août
Le 20 août est la fête nationale de la fondation de l'Etat hongrois et de son premier roi, Etienne. C'est aussi la fête du pain nouveau. Chaque ville organise sa fête avec des concerts et des spectacles qui se termine par un feu d'artifice.
20 August
It is the day of King Stephen I who was the first king of Hungary. On this day we commemorate the founding of our state. It is "the day of the new bread" as well. It is celebrated with fireworks all over the country.


---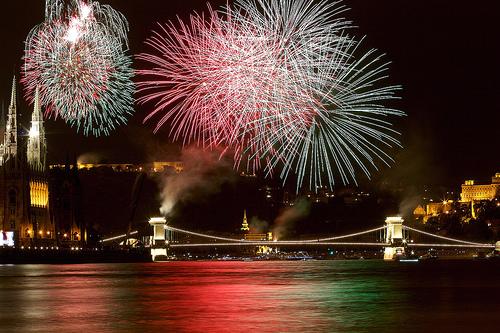 23 octobre
On célèbre la déclaration de la République Hongroise (1989) et on commémore la Révolution de 1956.
23 October
We celebrate the declaration of the Hungarian Republic (1989) and commemorate the Revolution of 1956.