Desserts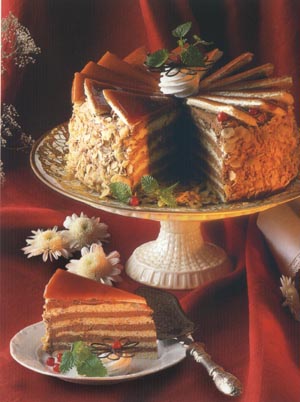 Gâteau Dobos
Portant le nom de son inventeur, József Dobos, le Dobos est un gâteau qui alterne six fonds de tarte et autant de couches de crème au beurre parfumée au chocolat, le tout étant recouvert d'un glaçage au caramel.
Dobos torte
Dobos torte is a famous Hungarian cake, invented by and named after a well-known Hungarian confectioner, József Dobos in 1884. It is a six-layer sponge cake, layered with chocolate butter cream. The top is covered with a hard caramel glaze.


---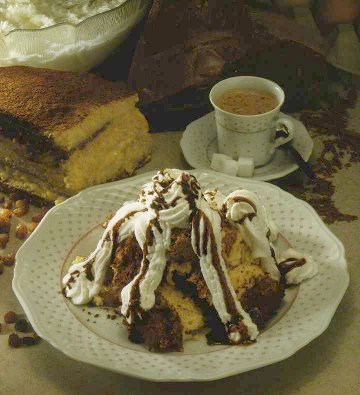 Somlói galuska
Somloi Galuska est un dessert demandé en Hongrie. C'est une délicieuse pâte génoise aux noix imbibée de rhum, fourrée à la crème pâtissière et aux raisins secs, nappée de sauce au chocolat et de crème chantilly.



Somlói galuska
Somlói galuska is a popular Hungarian dessert. It is made by layering chocolate and vanilla sponge cake with vanilla custard, raisins, walnuts, chocolate sauce, rum and a generous topping of whipped cream


---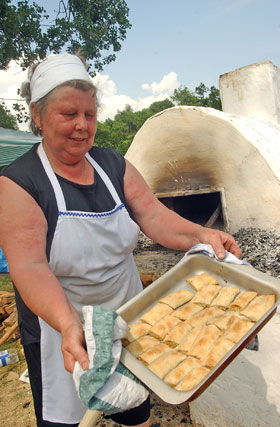 Strudel
Le strudel est une spécialité pâtissière. Il s'agit d'une pâtisserie composé de plusieurs couches de pâte filo beurré au pinceau qui entourent un garniture pour former un cylindre qui sera doré au four. La garniture se compose généralement de pommes, de fromage blanc, de griottes, de cerises, de graines de pavot ou de choux.



Strudel
A strudel is a type of sweet layered pastry with a filling inside. The best-known kinds of Strudel are made of apples or cottage cheese. Other Strudel types include sour cherry, sweet cherry and poppy seed strudel. There are also savoury strudels made of cabbage.