Gdańsk
Gdańsk
La ville de la Baltique avec un port, le centre des sciences, de la culture et centre économique. Dans l'histoire récente de la Pologne appelé le berceau du mouvement social « Solidarność »
Gdańsk


Gdańsk is a port city of Poland, It's an important centre of learning,culture and economy. In the newest history Gdańsk is regarded as the cradle of the independence social movement, known under the name " Solidarity "



Gdańsk


Gdańsk jest miastem portowym Polski, ważnym centrum nauki, kultury i gospodarki. W historii najnowszej Gdańsk jest uważany za kolebkę niepodległościowego ruchu społecznego, znanego pod nazwą "Solidarność".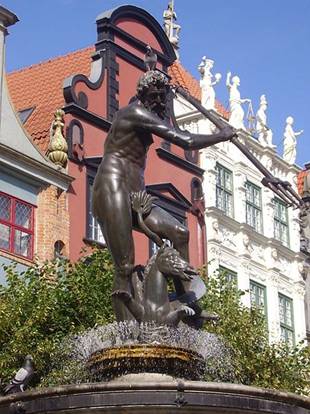 La Fontaine de Neptune – le symbole de Gdańsk, la sculpture représentant le dieu romain de la mer, réalisée en bronze en 1615. La fontaine est située dans la Vielle Ville devant la Cour d'Artus.
Fountain of the Neptune – the symbol of Gdańsk, the sculpture of the ancient god of seas and oceans was cast in bronze in 1615 r. It is standing in the representative part of Gdańsk, so-called Long Market, in front of the Renaissance palace called Artus court.
Fontanna Neptuna - symbol Gdańska, rzeźba antycznego boga mórz i oceanów została odlana w brązie w 1615r., stoi w reprezentacyjnej części starówki gdańskiej na tzw. Długim Targu, przed renesansowym pałacem Dwór Artusa.
---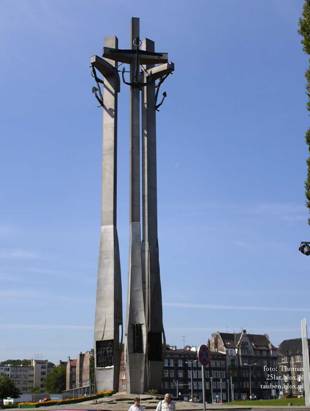 Monument de Gdańsk
A Gdańsk se trouve l'un des plus grands chantiers navals de la Pologne qui à  l'époque du communisme était le théâtre des plusieurs rebellions et grèves. Devant le chantier se dresse trois croix ornées d'une ancre de marine dédiées à  la mémoire des victimes des grèves de 1970. C'était en 1970, au cours d'une manifestation des ouvriers que les agents de la milice et du service secret ont tué 3 ouvriers.
The Monument to the fallen Shipyard Workers - one of the biggest Polish shipyards is in Gdańsk which in communist times was the arena of many rebellions and workers protests. In 1970 during one demonstration the police forces and secret security units shot 3 shipyard workers. In memory of this tragic event was erected a monument in the form of three crosses with anchors.
Pomnik Poległych Stoczniowców – w Gdańsku znajduje się jedna z największych polskich stoczni, która w czasach komunistycznych była areną wielu buntów i protestów robotniczych. W 1970r. podczas jednej z demonstracji milicja i służba bezpieczeństwa zastrzeliły 3 stoczniowców. Na pamiątkę tych wydarzeń wzniesiono monument w postaci trzech krzyży z kotwicami.
---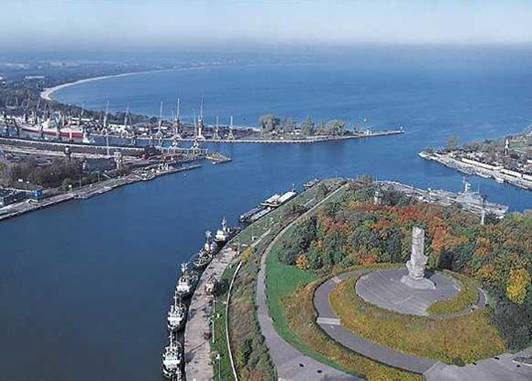 Westerplatte Monument aux Défenseurs de la côte
- l'endroit connu pour être le lieu d'une bataille éponyme (1-7 septembre 1939). La défense de cette presqu'île est considérée comme le symbole de la lutte des Polonais contre les occupants allemands. Pendant 7 jours 200 soldats polonais dirigés par le major Henryk Sucharski se défendaient avec 3 canons et 4 mortiers contre 3500 Allemands équipés de l'artillerie lourde et du cuirassé Schleswig-Holstein.
Westerplatte - Monument to Defenders of the Coast – right after the outbreak of the World War II, in September 1939 the defence of the Westerplatte peninsula became the symbol of the fight of Poles against the aggression of Nazi Germany. For 7 days 200 Polish soldiers under the major Henryk Sucharski's command resisted overwhelming German forces, among others defending against the fire of the heavy artillery and the German battleship Schleswig-Holstein.
Westerplatte - Pomnik Obrooców Wybrzeża – tuż po wybuchu II Wojny Światowej, we wrześniu 1939r. obrona półwyspu Westerplatte stała się symbolem walki Polaków z agresją hitlerowskich Niemiec. Przez 7 dni 200 polskich żołnierzy pod dowództwem majora Henryka Sucharskiego stawiało opór przytłaczającym siłom niemieckim, między innymi odpierając ostrzał ciężkiej artylerii i niemieckiego pancernika Schleswig-Holstein.