Malbork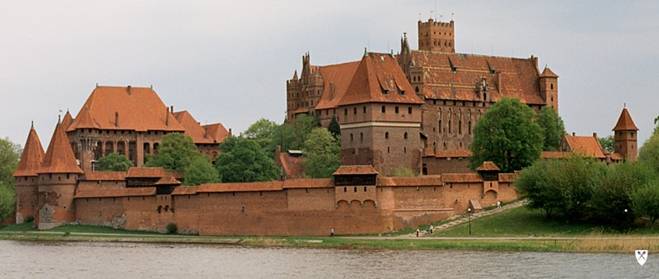 Malbork
Une ville dans le Nord de la Pologne, résidence du Grand-Maître de l'Ordre Teutonique.
Le château teutonique de Malbork (dit aussi Marienbourg – le « château de Marie »). L'une des plus grandes forteresses de l'Europe médievale. Dans les années 1309-1457 – résidence des grands-maîtres de l'ordre teutonique. Dans les années 1457-1772 l'une des résidences des rois de Pologne. A l'époque de la divison de la Pologne le château appartenait à la Prusse. Dans les années 30 du XX siècle les nazis y ont organisé leurs cérémonies. Actuellement cette forteresse est l'un des plus grands ensembles de l'architecture gothique dans le monde. Elle est inscrite au Patrimoine Mondial de l'UNESCO.
Malbork
Malbork is a town in northern Poland. It was the residence of the great Master of the Teutonic Order
Malbork Castle is one of the biggest fortresses in the medieval Europe. In 1309-1457 it was the residence of great Masters of the Teutonic Order. Teutonic Knights used to call the fortress Marienburg Castle instead of Malbork Castle. In 1457-1772 it was a residence of Polish kings. During partitions of Poland the castle was taken over by Prussians, in the 30s of the 20th century German Nazi ceremonies used to take place there. Nowadays this Teutonic castle is one of the biggest Gothic buildings in the world. UNESCO listed the castle and its museum as World Heritage Site.
Malbork
Malbork - miasto w północnej Polsce, siedziba wielkiego mistrza Zakonu Krzyżackiego i stolica Państwa Zakonnego Zamek krzyżacki w Malborku – jedna z największych twierdz średniowiecznej Europy. W latach 1309-1457 rezydencja wielkich mistrzów zakonu krzyżackiego, w latach 1457 – 1772 jedna z rezydencji królów polskich. W czasach rozbiorów Polski zamek został przejęty przez Prusaków, w latach 30-tych XX wieku był używany przez Niemców podczas uroczystości nazistowskich. Nazwa zamku używana przez Krzyżaków brzmiała Marienburg, czyli Gród Marii. Obecnie zamek krzyżacki w Malborku jest jednym z największych zachowanych zespołÃ³w gotyckiej architektury na świecie, został wpisany na listę światowego dziedzictwa UNESCO.