Noël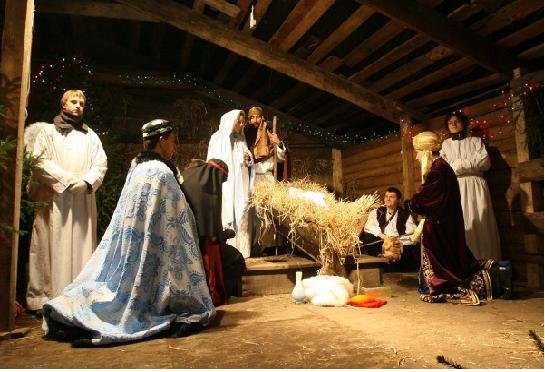 Crèche de Noël
La crèche symbolise la grotte de Betheleem et la Nativité. Dans chaque crèche il y a des figurines de l'Enfant Jésus, Marie, Saint Joseph, Rois Mages, bergers et aussi des animaux. On trouve aussi des crèches vivantes où les gens présentent les personnages de la scène de Nativité et où il y a de vrais animaux. La spécialité de Cracovie ce sont les crèches de Cracovie faites à la main, joliment construites par les artisants, basées sur l'architecture de Cracovie.
Christmas crib
The crib symbolizes the stable in Bethlehem in which Jesus Christ was born. In every shed there are statues of the baby Jesus, Mary, Jozef, the three Kings, shepherds and also animals. So-called living cribs are popular, in which instead of dolls and figurines, people and animals are appearing. Cracow specializes in hand made cribs. They are very beautiful, fabulously colored and refer to the architecture of the city.
Szopka Bożonarodzeniowa
Szopka symbolizuje stajenkę betlejemską, w której narodził się Jezus Chrystus. W każdej szopce znajdują się figury Dzieciątka Jezus, Maryi, Józefa, Trzech Króli, pasterzy, a także zwierząt. Popularne są tzw. żywe szopki, w których zamiast lalek i figurek, występują ludzie i zwierzęta. Specjalnością Krakowa są ręcznie wykonywane, przepiękne i bajecznie kolorowe szopki krakowskie, nawiązujące do architektury miasta.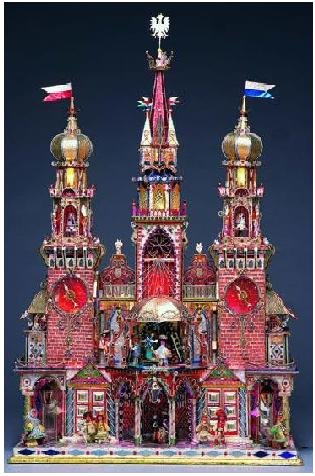 ---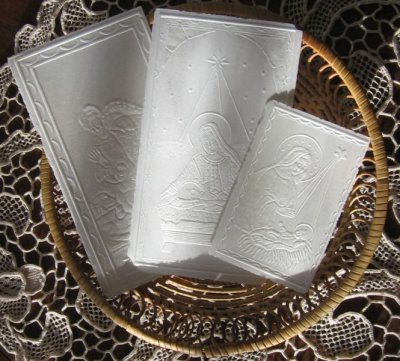 "Oplatek" (pain azyme) de Noël
Oplatek (pain azyme) de Noël – « Oplatek » c'est un morceau très fin de pain azyme, composé exclusivement de farine de froment et d'eau. C'est le symbole de réconciliation et de pardon, le signe de l'amitié et de l'amour. « Oplatek » de Noël est décoré des motifs réligieux liés à la Nativité. « Oplatek » ouvre le repas de Noël. On partage le pain azyme avec ses proches en échangeant des voeux.
Christmas Holy Wafer
A wafer is a very thin bread scrap baked of white flour and water without yeast. It is a symbol of conciliation and forgiving, with a sign of friendship and love. Christmas wafers are decorated with motives associated with Jesus birth. During Christmas Eve the Poles exchange wafers and give each other their best wishes.
Opłatek Bożonarodzeniowy
Opłatek to bardzo cienki płatek chlebowy wypiekany z białej mąki i wody bez dodatku drożdży. Jest symbolem pojednania i przebaczenia, znakiem przyjaźni i miłości. Opłatki bożonarodzeniowe są zdobione motywami związanymi z narodzeniem Jezusa Chrystusa. Podczas wieczerzy wigilijnej Polacy dzielą się opłatkiem i składają sobie życzenia
---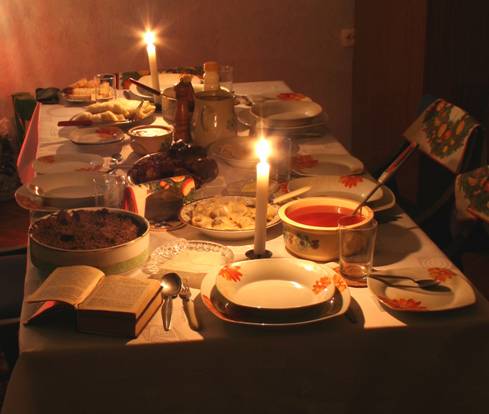 La table de Noël traditionnelle.
Pour les Polonais la veille de Noël c'est un jour très important et solennel . Le 24 décembre, à la première étoile la famille se réunit à table et le réveillon commence. Le réveillon de la veille de Noël c'est le repas composé de 12 plats qui ne contiennent pas de viande.
Polish traditional Christmas table
The Poles celebrate Christmas Eve very ceremonially. On 24 December after the first star appears in the sky, the family sits down to dinner which traditionally consists of 12 lentern dishes.
Tradycyjny polski stół wigilijny
–
Polacy bardzo uroczyście obchodzą Wigilię Bożego Narodzenia. 24 grudnia po ukazaniu się pierwszej gwiazdy na niebie, cała rodzina zasiada do uroczystej kolacji, która tradycyjnie składa się z 12 bezmięsnych dań.
---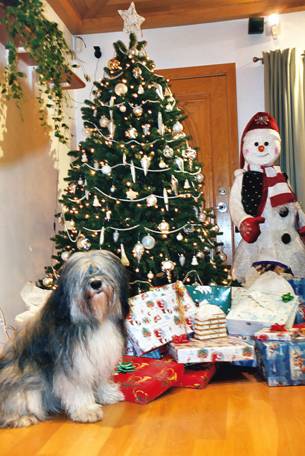 Les cadeaux de Noël sous le sapin
Le 24 décembre, après le réveillon on distribue des cadeaux qui ont été mis sous le sapin. Le sapin symbolise Jésus Christ – source de vie.
Gifts under the Christmas Tree
On 24 December after the Christmas dinner members of a family give each other presents, which have been put under the Christmas tree. The Christmas tree symbolizes Christ as the source of the life.
Prezenty pod choinką
–
24 grudnia po Wigilii Bożego Narodzenia członkowie rodziny obdarowują się prezentami, które kładzie się pod choinką. Choinka symbolizuje Chrystusa jako źródło życia.
---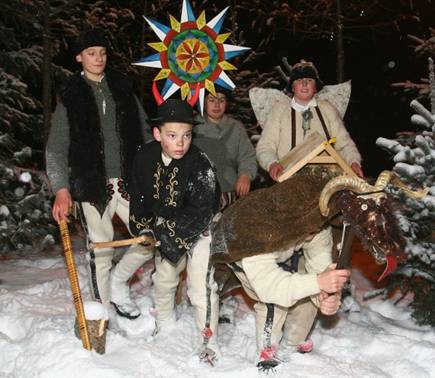 Tradition de Noël – chants de Noël avec "Turon"
Le deuxième jour de Noël, le 26 décembre les "cantiqueurs" - chanteurs de Noël (appelés « kolednicy ») commencent leur tournée. C'est la coutume de la campagne polonaise. Les enfants se déguisent et font du porte-à -porte en chantant des cantiques et en adressant les voeux de Noël aux habitants de la maison. Les hôtes leur donnent des friandises ou les récompensent par une pièce de monnaie. Les cantiqueurs ont souvent l'étoile de Betheleem et sont déguisés en différents monstres dont le plus populaire est Turon qui fait peur en claquant de sa gueule de bois.
Christmas tradition (carolling with "Turon")
On the second day of the Christmas in Polish villages there is a tradition of walking from house-to-house, singing Christmas carols and giving best wishes. This is performed by children wearing special costumes. Hosts present them with holiday delights or 'buy themselves out' by small donation. Carol singers carry the Star of Bethlehem and different monsters with which they frighten household members. The most popular monster is a sinister "Turon" snapping his wooden jaws.
Kolędowanie z Turoniem
W drugi dzień Bożego Narodzenia na wsi polskiej jest zwyczaj, że poprzebierane dzieci chodzą od domu do domu, śpiewają kolędy i składają życzenia. Gospodarze obdarowują przebierańców świątecznymi smakołykami lub wykupują się drobnymi datkami. Kolędnicy niosą ze sobą Gwiazdę Betlejemską oraz różne maszkary, którymi straszą domowników. Najbardziej popularny jest turoń, kłapiący złowrogo drewnianą paszczą.