Autres Fêtes religieuses
Dimanche des Rameaux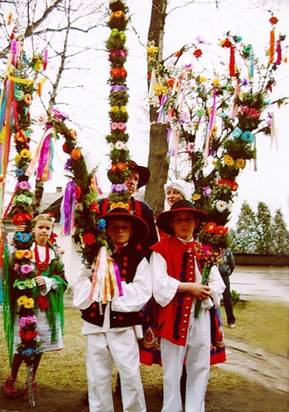 7 jours avant Dimanche des Pâques on fête le Dimanche des Rameaux pour commémorer l'entrée triomphale du Christ à Jérusalem. Ce jour là , les catholiques apportent à l'église des « palmes »- bouquets de buis, de fleurs séchées, de branchettes de saule qui sont bénies durant la messe. Les « palmes » traditionnelles sont fabriquées de branchettes de saule qui est le symbole de la résurrection et de l'immortalité de l'âme. Dans plusieurs villages polonais il y a des concours des « palmes ». On choisit la plus haute et la plus belle. Certaines « palmes » atteignent quelques mètres de hauteur.
Palm Sunday before Easter
Palm Sunday is celebrated 7 days before Easter to commemorate Jesus Christ's entry to Jerusalem. On that day Christians bring to churches palms, which are being sacred during the holy mass. Traditional Easter palms are made of willow sprigs, because willow is a symbol of resurrection and immortality of a soul. Many Polish towns and villages organize artificial palm competitions. The one who makes the biggest and the prettiest one, is the winner. The highest palm in 2008 was 33.39 meters long!
Niedziela Palmowa
Niedziela palmowa jest obchodzona na 7 dni przed Wielkanocą na pamiątkę przybycia Chrystusa do Jerozolimy. W tym dniu wierni przynoszą do kościoła palmy, które są święcone podczas mszy świętej. Tradycyjne palmy wielkanocne wykonuje się z gałązek wierzby, która w symbolice kościoła jest znakiem zmartwychwstania i nieśmiertelności duszy. W wielu miejscowościach Polski odbywają się konkursy na największą i najładniejszą palmę. Niektóre palmy liczą kilkanaście metrów wysokości!
---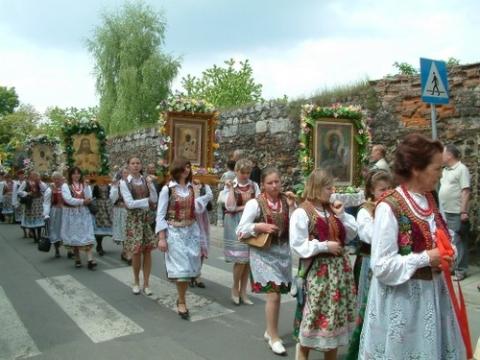 Procession de la Fête-Dieu

Le jour de la Fête-Dieu, en Pologne il y a la plus grande procession de l'église catholique. Les fillettes vêtues de blanc jettent les pétales de fleurs et les femmes en costumes de la région portent les tableaux représentant Marie et Jésus. Des milliers des Polonais participent à ces processions.
Corpus Christi Procession
The greatest procession in a liturgical year of the Roman Catholic Church takes place during the Holiday of the Corpus Christi. Little girls dressed in white throw flowers, women dressed in folk dresses carry a picture of the Mother of God and Jesus. In the entire Poland thousands of persons participate in processions.
Procesja w Boże Ciało
Największa procesja w roku liturgicznym kościoła katolickiego ma miejsce podczas Święta Bożego Ciała. Małe dziewczynki ubrane na biało sypią kwiatki, kobiety przybrane w ludowe stroje niosą obrazy Matki Boskiej i Jezusa. W procesjach na terenie całej Polski uczestniczą setki tysięcy osób.